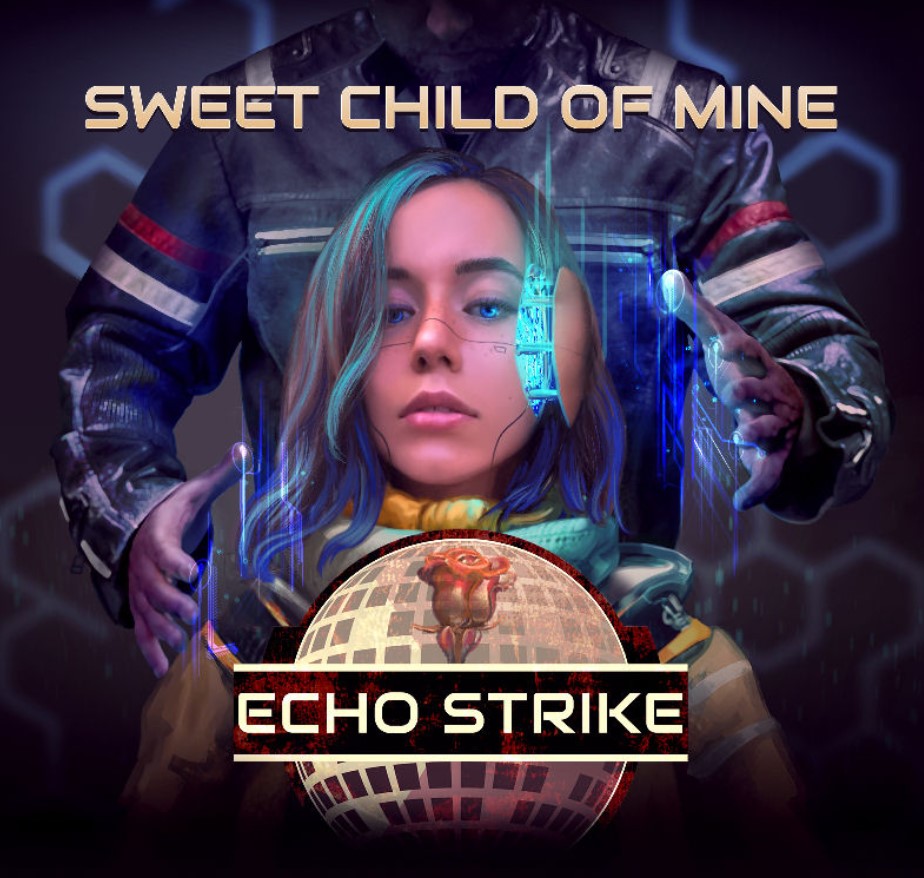 ---
Echo Strike are an alternative rock/dance group with international members. They were formed by frontman Randy Van Gelder, guitarist Beau Newlin and producer Jonathan Broussard. This line up has expanded since their initial formation but it was this core trio that wrote and produced their debut album Honest Lies, which was released in 2019 to great acclaim.
After this strongly positive response from both critics and the public, the group expanded both their creative vision and band members, recruiting Homer, Zeta, John and Angel to round up the lineup. This led to 2020's Not Inside Your Mind which was also a great success.
This album, Dirty Clean Sexy Mean, consists of fifteen tracks and begins with the upbeat electro-funk rock of Bad Intentions. From the opening bars the music grabs your attention, starting with the infectious refrain, "Got to get through to you". The verse is built upon a bedrock of a taut drum groove, driving melodic basslines and Chic-style high-end funk guitar.
The vocals are immediately arresting, delivered sometimes in unison octaves and sometimes in harmony which makes for a sophisticated sound. The classic sounding synths add to the 70's disco vibe but with a modern pop/rock sound and production. While musically it is upbeat, lyrically, it's intriguingly dark and enigmatic: "You can't trust me, I'm not going to lie, you'll need to risk it if you're going to survive…".
1978 continues this earthy disco style combined with funk and rock, and you can hear shades of the Bee Gees, Chic and Tower of Power. Randy Van Gelder gives a fantastic vocal performance and the many instrumental touches such as Stevie Wonder-style clavinet add richness. It's an excellent track that's particularly suited to the dance floor but is exhilarating in any context.
Next comes a radical reworking of the Guns N Roses song Sweet Child O' Mine. This takes the song originally performed solidly in the classic rock style and turns it into a disco/rock crossover. It retains some of the original guitar lines but it is impressive how they've managed to transform it into their own unique style.
Making The Jive is another upbeat disco/ rock track that fuses the 70's Bee Gees sound with the modern dance pop of Daft Punk, especially circa Random Access Memories. The vocoder really gives the production a futuristic contemporary sound which will make it popular on radio. Again, it's full of fine touches such as the rolling bass and staccato synth lines which interweave with the rhythm guitar.
Everything Hums is a little different, a mid-paced sophisticated pop track built around a beefy drum beat that wouldn't sound out of place on a hip-hop record though overall it brought to mind the anthemic 80's style pop of a band like A-Ha.
This style continues with the emotive melancholy of Work To Do which depicts a stormy relationship with a flawed romantic partner: "You're a storm that decimates, I put up a plea but you only try to flee….". These two songs show the more sensitive side to Echo Strike, reminiscent of the ballad style that ABBA were well known for.
Her Smile immediately captures the attention with its complex and infectious drum pattern, giving the music an ebullient energy. This is contrasted by mellow guitar lines that weave in and out, subtle synths filling out the sound. It is also romantic in tone: "That smile for me makes everything….".
Leaving starts out as a gentle acoustic ballad that brought to mind the lilting rhythm of And I Love Her by The Beatles. The arrangement then builds up with a gentle but punchy beat, and the crystal clear acoustic guitars really add a touch of class.
Up For It is one of the album's most inventive and unusual tracks with swirling, kaleidoscopic synths over a simple but effective beat and an instantly memorable vocal melody. The sophistication and degree of subtle nuances in the arrangement and overall production sound is where Echo Strike truly excel, and this is another fine example.
Dangerous Woman is much faster paced, bolstered by a pumping kick drum and elastic bass line. Lyrically, it is a depiction of the classic femme fatale theme and the vocal arrangement is particularly superb on this one, with clever use of layers and unison octaves.
The Stranger is an electro pop with some unexpected twists and turns, a track which really shows how Echo Strike manage to seamlessly combine eclectic genres into a synergistic whole. This song is a real grower, and has become one of my personal favourites upon repeated listens. The lyrics are also knowingly modern: "You better go before it's out of control fast as you can, don't post on Instagram".

Demons is perhaps the album's darkest song, depicting a soul in emotional turmoil and despair: "Don't know the demons that haunt my mind, I am not alone but I feel left behind". The unusual chord progressions in certain sections really give this particular song a unique sound and really shows how versatile the group is, both musically and lyrically.
Alone retains a troubled lyrical tone but musically is a return to the breezy, uplifting pop of the earlier part of the album. The harmonies on this are very effective, and the vocoder section once again brings to mind the electro-disco sound of Daft Punk.
Listen Hard is a strident pop track with a swinging rhythm with more of a rock influence than most of the album, showing yet another facet to their musical versatility. The bluesy, rhythmic piano made me think of Elton John and indeed the song is reminiscent of his Goodbye Yellow Brick Road era. It is full of great touches, such as the infectious handclaps and percussion.
This 70's troubadour style continues into the similarly piano-led finale of the album, Wait And See. It recalls the mid period of solo Paul McCartney, Billy Joel and early 70's Todd Rundgren, yet also still sounds contemporary. It features perhaps the album's most anthemic and singalong chorus, augmented by dome fine harmonies that lift the track. It's a very well crafted song that ends the album on a suitably fitting  high note.
Overall, this third album from Echo Strike finds them at the height of their powers with a versatile range of songs that veer from modern disco to timeless ballads. Their signature sound is a fusion of several genres and styles that gives them both a broad range of appeal and the kind of sophistication that means they get better with every listen. With charismatic vocals and fine musicianship from the whole group, plus many potential singles, Echo Strike have everything it takes to conquer the world.
VERDICT = 9.1 out of 10
Orignal source: https://thefaulknerreview.wordpress.com/2021/03/17/album-review-dirty-clean-sexy-mean-by-echo-strike/
Previous
Echo Strike are an alternative rock/dance group with international members. They were formed by frontman Randy Van Gelder, guitarist Beau Newlin and producer Jonathan Broussard. This line up has expanded since their initial formation but it was this core trio that wrote and produced their debut album Honest Lies, which ...